Alternating tread staircases
Alternating step staircases are suitable for loft conversions where the loft has a single bedroom (ensuite also allowed) , The building regulations (Part K) state that you can have a space saving staircase if you dont have enough room for a conventional 42 degree pitch staircase.
Our space saver staircases are built in the UK to suit the Building regulations set out to cover England and Wales.
Models
Spacesaver Stair Kit | Budget Spacesaver | Birch 24 Spacesaver | Beech 40 Spacesaver | Oak 40 Spacesaver
Karina Spacesaver Staircases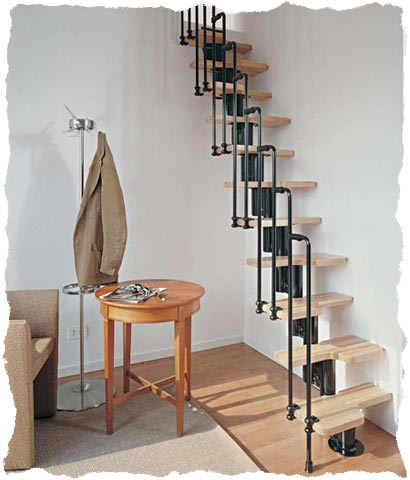 Karina is particularly suited for narrow spaces. Its supporting structure is made of steel interlocking elements and is available in three different colours: black (RAL 9017), white (RAL 9010), or grey (RAL 9006). The accessories are black.

The polished beech wood treads with a light (natural) or dark dye are of a special shape to guarantee maximum utilisation of space without compromising the stair functionality. The staircase is supplied with one side railing. Karina 11 shaped treads, steel supporting structure and railing on the internal side... all included in the price!
How to get a Quick Quote ?

Let us know the floor to floor height and the width you need for your space saver staircase and the model and we can give you the option prices over the phone, these space saving staircases are available to order online through our Online shops also, but more bespoke options are also available.

Highest Quality - Lowest Prices - Quickest Delivery - Phone 01952 608853
Ash 40 Space Saving Staircase

Shown here with the optional carpet inserts and the European Handrail option to the left hand side.

Oak 40 Space Saving Staircase

Shown here with the optional carpet inserts

Birch 24 Space Saving Staircase

The Birch 24 is available with carpet inserts and we have a handrail option on this staircase prices start at £399.00 + VAT

Beech 40 Space saver staircase

Shown here with the upgraded open plan option (Open Risers) and the European style handrail option.

Budget Space saver Staircase

The Budget space saver staircase is a tough basic spec space saving staircase prices start at £249.00 + VAT

Quarter Turn Options

We offer quarter turn landing options on all of our space saver staircase models, these are all made to measure so contact us with the space you have and we will see what works.
Phone sales on 01952 608853
Alternate Tread Staircases offer a compact solution for loft staircases when you dont have the room for a conventional staircase.
Fax 01952 228679
Email Sales@stairplan.com
Look at the Space saver Staircase image gallerie

Measuring your staircase